Venice: CodeX
CURATED BY: Aorist. Curatorial Statement by Julia Kaganskiy
Aorist in Venice brought together digital and physical art by leading artists across three sites, presenting a program of immersive installations, performances, and talks at the intersection of art, technology and sustainability. Aorist's presentation reflects on the invisible systems that govern our ever-changing, uncertain world, as well as the inputs and feedback loops that incentivize certain behaviors and cultural values. Named CodeX, the Venice projects displayed the work of artists that render unseen forces visible, inviting viewers to rethink patterns and coefficients one might inadvertently disregard as mere abstractions, to understand how they could be influencing ways of living and connecting with our surroundings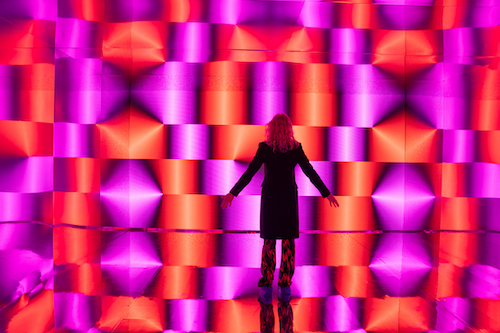 Rafaël Rozendaal, Observation, 2022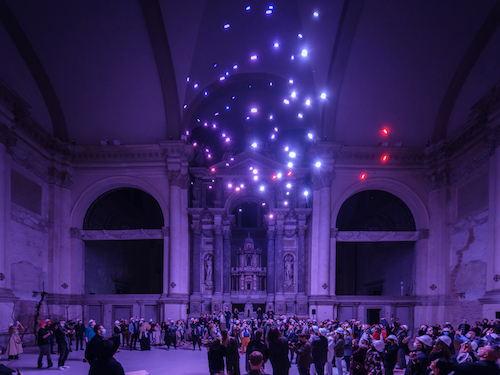 DRIFT Performance, Social Sacrifice, 2022
Rafaël Rozendaal's installation Observation utilizes mirrors and screens to transform an intimate space into an infinite, fully immersive digital world. Encouraging visitors to slow down, the work requires a practice of close looking to reveal hidden patterns and complex forms emerging from the interplay of simple elements such as color, shadow, constraint, and flow. A 'Post-Internet' pioneer, Rozendaal has been creating artworks in the form of websites since 1999. Reflecting on his new commission with Aorist, the artist comments, "Observation is a series of compositional experiments that play with the idea of colors pushing each other. It's almost like the colors have a weight or physical presence and are fighting for the space they occupy - moving in sync, like traffic in a dense city."
DRIFT staged their first-ever indoor aerial drone performance titled Social Sacrifice. Exploring the swarming dynamics exhibited by a school of fish encountering a predator, the work highlights the tensions that emerge between collective action and individual freedom, as well as how these change in the presence of external threats.
As part of their ongoing commitment to sustainability, Aorist partnered with TBA21–Academy's Ocean Space – a Venice-based cultural center for catalyzing ocean literacy, research, and advocacy through the arts – to bring this new commission by DRIFT to life in the Church of San Lorenzo.
Meanwhile, Jonas Lund explores how systems of value play out in the context of art making and art valuation in MVP (Most Valuable Painting), an online participatory project in which 512 individual digital paintings change and evolve, optimizing themselves to become more desirable based on audience engagement data and sales. Following a preview of MVP at W1 Curates in London from April 4 to 17, a physical manifestation Lund's work was on display at Lightbox's Venice Meeting Point.
Collectively, these commissioned works highlight the human, environmental, and technological systems that shape our world and ask us to consider what kinds of practices and cultural values they instill. Each of the works on view is accompanied by a series of NFTs available on the Aorist marketplace. The NFTs produced alongside DRIFT's Social Sacrifice are created in collaboration with digital art pioneer and musician Don Diablo, with a percentage of sales donated to TBA21–Academy.
Featured Artists